Jakob Etzel
Analytics entrepreneur
European politics
See my work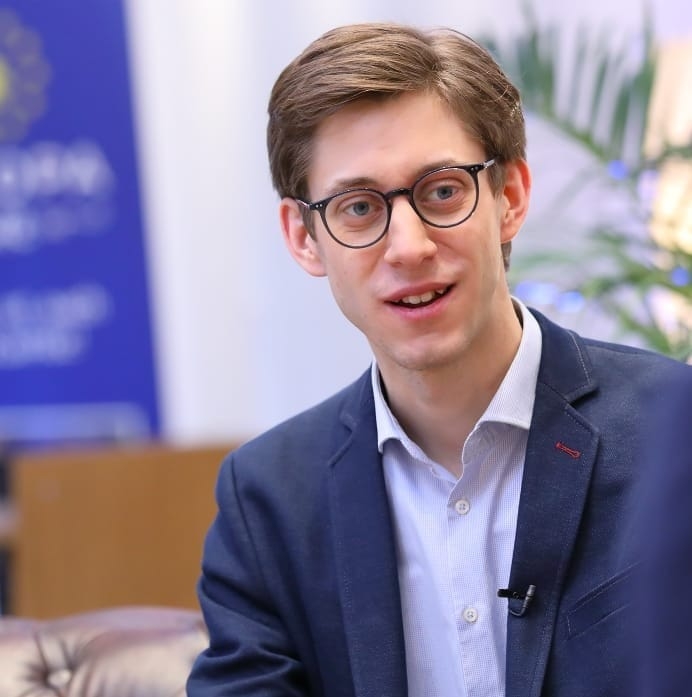 Analytics entrepreneur
Vice President Customer Success at Tset where we develop a cost and carbon management platform for the manufacturing industry. As a generalist in mathematics and information technology, Jakob contributes to new digital and data analytics solutions in various industries (automotive, energy, finance).
European politics
Jakob serves as the Secretary-General of the Union of European Federalists - Austria, a 60 years old pan-European, non-partisan and non-governmental political organisation dedicated to the promotion of European political unity. He has particular experience in NGO leadership, European affairs and political education.
Jakob is based in Vienna and Krems, Austria.
Jakob Etzel is a regular speaker, moderator and trainer on various topics. He was awarded as a Speaker of the Year 2017 by imh, a leading Austrian conference and seminar organiser, based on audience feedback.
Upcoming
Currently no events scheduled.
Past
Kostenbewusstes Reduzieren von CO2e,
2023-12-05, online (speaker)

automotive

Webinar: Mastering savings tracking in procurement: Strategies and best practices,
2023-11-30, online (moderator)

automotive

digital

Ulmer Gespräche 2022,
2022-10-12, Ulm, Germany (speaker)

automotive

digital

Buchpräsentation "Perspektiven für eine lebenswerte Gesellschaft. Zum Beitrag des Christlichen vor Ort",
2021-08-05, Bibliotheksaula, Universität Salzburg, Austria (panel speaker)

digital

Automotive Seating,
2021-06-08, online (speaker)

automotive

digital

EUROPAtalk #DigitalSingleMarket. Digitalisierung in der EU während Corona,
2020-04-17, Online (panel speaker)

digital

europe

Online-Diskussion: Ungarn: Das Ende der Demokratie?,
2020-04-01, Online (panel speaker)

europe

Kamingespräch der EFB Oberösterreich,
2019-11-23, Bildungshaus Sankt Magdalena, Linz, Austria (moderator)

europe

Österreichische Statistiktage 2019,
2019-10-25, Statistik Austria, Vienna, Austria (keynote speaker on data-driven cost calculation of automotive manufacturing parts)

automotive

digital

Europa-Forum Neumarkt,
2019-07-13, Schloss Forchtenstein, Neumarkt i. d. Steiermark, Austria (moderator of the panel 'Quo vadis Europaparlament?')

europe

Osterkolloquium der Studierendenvertretungen Mathematik in Graz,
2019-04-08, TU Graz, Austria (speaker on mathematical software development in the automotive industry)

automotive

digital

KURS 2019 Bankenkongress,
2019-03-27, Austria Trend Hotel Savoyen, Vienna, Austria (speaker at the congress opening panel)

digital

finance

Kamingespräch der EFB Oberösterreich,
2018-11-17, Bildungshaus Sankt Magdalena, Linz, Austria (moderator of a panel debate)

europe

Rotaract Wien-Oper / Vortrag,
2018-11-13, Wien, Austria (speaker on Artificial Intelligence in the Energy Sector)

digital

energy

Bank of Lithuania Fintech Conference 2018,
2018-11-08, Hotel Radisson BLU, Vilnius, Lithuania (speaker)

digital

finance

WHU RK Frankfurt - Artificial Intelligence,
2018-09-12, Frankfurt, Germany (speaker on Artificial Intelligence in the Energy Sector)

digital

energy

TCI Consult Insurance Trends Lounge,
2018-09-10, Wien, Austria (speaker)

digital

finance

Europa-Forum Neumarkt,
2018-07-14, Schloss Forchtenstein, Neumarkt i. d. Steiermark, Austria (moderator)

europe

GoAustria GIN Corporate Day,
2018-05-29, WKO Sky Lounge, Vienna, Austria (panel speaker on corporate/startup cooperation)

digital

[DACH] Jugendseminar Europawahl 2019,
2018-04-27, Landhaus, Bregenz, Austria (moderator of a panel debate)

europe

pol. education

Lecture: BI - Understanding business through statistics,
2018-03-07, CODE University of Applied Sciences, Berlin, Germany (lecturer)

digital

Assekuranz-Forum: Fachkonferenz InsurTechs,
2017-11-28, Hilton Garden Inn, Vienna, Austria (keynote speaker on learnings from the fintech world for the insurance industry)

digital

finance

Europäische Literatur-Jugendbegegnungen,
2017-11-16, Krems, Austria (moderator of a working group on European identity)

europe

pol. education

Forum Bankstrategie,
2017-11-08, Renaissance Hotel, Vienna, Austria (speaker on artificial intelligence in the financial industry)

digital

finance

2nd Training Camp of EYP Ukraine,
2017-08-08, Tatariv, Ukraine (head trainer on NGO leadership and capacity building)

pol. education

Europa-Forum Neumarkt,
2017-07-16, Schloss Forchtenstein, Neumarkt i. d. Steiermark, Austria (speaker on the interaction between the European Union and the youth)

europe

Erste Group Bootcamp (TU edition),
2017-06-12, Erste Campus, Vienna, Austria (keynote speaker on digital banking and innovation)

digital

finance

Pioneers Festival,
2017-06-02, Imperial Palace, Vienna, Austria (moderator on digital banking)

digital

finance

Bankathon CEE 2017,
2017-05-31, T-Center, Vienna, Austria (moderator of a programming competition in digital banking)

digital

finance

Erste Group Bootcamp (WU edition),
2017-05-08, Erste Campus, Vienna, Austria (keynote speaker on digital banking and innovation)

digital

finance

12. Bank-Management-Symposium,
2017-03-28, Schloss Wilhelminenberg, Vienna, Austria (speaker on digital retail banking)

digital

finance

Plenary Meeting Europe Direct France,
2017-03-15, Nîmes, France (speaker on election awareness outreach)

europe

pol. education

International Electoral Affairs Symposium,
2016-12-05, Gloria Hotel, Maputo, Mozambique (panelist on election awareness outreach)

europe

pol. education

TCI Executive Lounge,
2016-12-01, Vienna, Austria (speaker on digital retail banking)

digital

finance

Manage Agile 2016,
2016-11-17, Berlin, Germany (speaker on agile software development in digital banking)

digital

finance

Europäische Literatur-Jugendbegegnungen,
2016-11-03, Krems, Austria (moderator of a working group on best-practice sharing in youth work)

europe

pol. education

CA Technologies Challenge,
2016-10-20, University of Technology, Vienna, Austria (speaker on digital retail banking)

digital

finance

Erste Bank Innovation get2gether,
2016-09-27, Vienna, Austria (speaker on digital retail banking)

digital

finance

6. Raiffeisen-Oktoberfest,
2016-09-15, Amstetten-Winklarn, Austria (panelist on the future of banking)

digital

finance

Salonabend 3D-Druck,
2016-09-14, 25th-floor GmbH, Vienna, Austria (panel debate moderator)

digital

Academy of the European Youth Parliament,
2016-08-28, Berlin/Wannsee, Germany (trainer on NGO communications)

europe

pol. education

Pioneers Festival,
2016-05-25, Imperial Palace, Vienna, Austria (panelist on the future of banking)

digital

finance

Business-Circle Bankenkonferenz,
2016-05-19, Stegersbach, Austria (speaker on digital retail banking)

digital

finance

Network Youth Career: CareerFair'16,
2016-04-26, FH Campus Wien, Vienna, Austria (panel debate moderator)

digital

Pioneers Asia,
2016-03-23, Tokio, Japan (speaker on digital retail banking)

digital

finance

#ExecFintech,
2016-03-08, Campus West, Frankfurt, Germany (speaker on digital retail banking)

digital

finance

Europäische Literatur-Jugendbegegnungen,
2015-10-22, Krems, Austria (moderator of a working group on best-practice sharing in youth work)

europe

pol. education

Agora on Security Kyiv,
2014-11-05, Kyiv, Ukraine (moderator of a working group on cyber security)

digital

pol. education

European Youth Event,
2014-05-11, European Parliament, Strasbourg, France (town hall talk moderator on European politics)

europe

pol. education